About Jynx
Edit
Jynx was born to Coralise Kelly Veart and Ashby Veart on the Third of August 1995. She is currently 16 years of age. Her only sibling is Oliver, he looks exactly like Jynx, but of course a boy version, he also can produce magic. Her father is a very talented Magician, her mother also possess magical power. She grew up rather conflicted; Her mother disliked magic, however her father supported any use of it. Because she was named Jynx everyone expected her to be bad news and a trouble maker, you could either embrace that or hate it, she however decided to live up to the name.
Jynx Felicity Veart

Vital Status

Alive, 16, Female, Magician,

Description

HEIGHT: '5"4'

HAIR: Red

EYES: Blue

Family

Coralise Kelly Veart (Mother, Magician)

Ashby Veart (Father, Magician)

Oliver Veart (Brother, Magicain)
Personality
Edit
She tends to be Loud, Playful, Out-going, Witty, and somewhat-tomboyish. She is wiser than most would think and very brave, however that does not mean she isn't frightened at all. When frightened or worried she often resorts to fighting. Her beliefs are strong and if they are threatened she will defend them.
Desription
Edit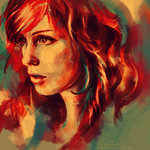 She has pale skin, very few freckles, and bright blue eyes. Jynx has a curtain of flaming red, shinning copper hair that is hip-length. She is roughly '5"4' tall, slender, and quite agile- as she often jumps or climbs tree to tree.
Possesions
Edit
Jynx possesses a ring, given to her by her father she rarely ever takes it off. It is said to have been her Great-grandmothers, and that it focuses the wearer's powers. The jewl is Opal, in which her mother confides in that means luck.
Companion
Edit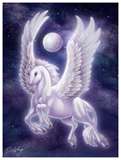 Jynx's companion is a pegusi known as Lyrida.
Talkbubble
Edit
Jynx Veart -Sorcerer's Apprentice, Sister of Oliver Veart
- "Play it to your strengths,"
 – Melody6 23:14, July 17, 2012 (UTC)

"Hello!" She called down from the tree tops.